Luxman L-85V Integrated Amplifier (Used) SOLD
Luxman L-85V Integrated Amplifier (Used) SOLD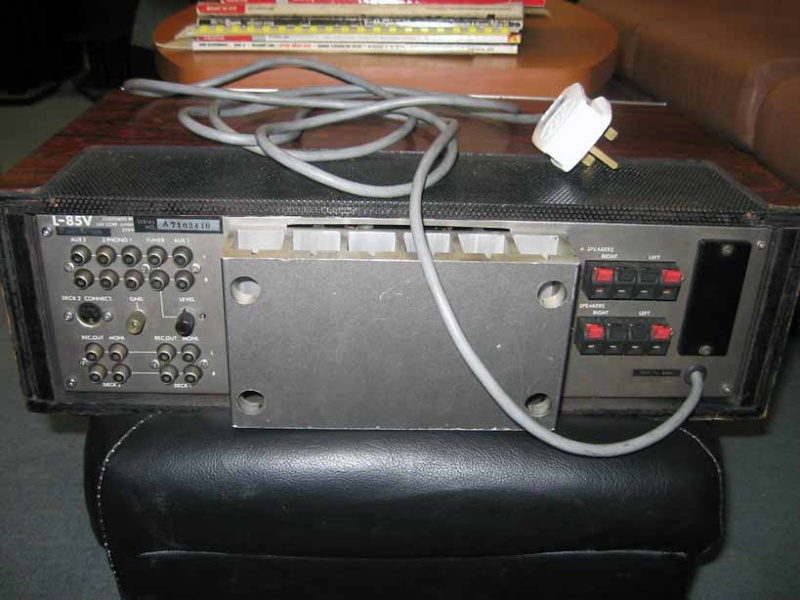 Luxman L-85V Integrated Amplifier. 80 watts per channel.
Condition: 7.5/10. Ask for
SOLD
. Interest pls call/sms Khwang 012-2651853 or e-mail:
smarthomesolution@yahoo.com
For more items/information pls visit
www.buy-sell.com.my
Read more
This topic belongs to the forum
Numbers of topics : 49542
Numbers of messages : 127294
Numbers of users : 10714
Numbers of points : 8321
  Luxman A-331 Integrated Amplifier   very good condition. 8/10 75 watts per channel into 8 ohm. Has excellent phono input. Made in japan. All line inputs are gold color No loudness function   *Picture taken above from the web.  Model and the
Model : L-309 Power output: 75 watts per channel into 8 ohm (stereo) Frequency response: 10Hz to 50kHz Total harmonic distortion: 0.03% Damping factor: 40 Input sensitivity: 2.5mV (MM), 100mV (line) Signal to noise ratio: 65dB (MM), 80dB
Luxman intgrated amplifier Model : L 100 Phono : mm Power output : 110 watt in to 8 ohm Condition : 7/10 Made : japan Price : SOLD Contact : loy 01636836523 http://loyhifi.blogspot.com
200 watts per channel stereo power amplifier. Dimensions (W x D x H): 438mm x 178mm x 431mm Condition: 8/10 Price: Sold Please contact Max 0176778820 or Benjamin 0163229428 for appointments or auditions. We are open on Sundays!
Model : L-116A Power output : 70 watts per channel into 8 ohm (stereo) Frequency response : 10Hz to 150kHz Total harmonic distortion  : 0.02% Input sensitivity :  0.25mV (MC), 1.5mV (MM), 150mV (line) Signal to noise ratio :  80dB (MM), 100dB
Forums from same category